.
Currently we accept payment in US Dollars, British Pounds, Euros and Australian Dollars. Select the country you reside for pricing in your currency. If your country's currency is not available then the default currency will be set to Euros (for countries located within Europe) and US Dollars (for all countries outside of Europe).
We are working on making other major currencies and other payment methods available in the near future.
Payment can be made by PayPal account OR by a credit/debit card using the secure online server. For credit/debit card payments, when you are taken through to the PayPal page you can checkout as a "guest" and pay using your credit or debit card by selecting 'Pay with Debit or Credit Card' without the need for a PayPal account.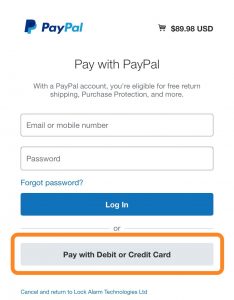 Select 'Pay with Debit or Credit Card' if you don't have a PayPal account.
Should you experience any difficulties with the checkout process please contact us or use our online chat facility.